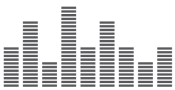 Compression molded to a flat or contoured design, MAP's ready-to-assembly architectural products can be fabric wrapped or field installed with performance in mind.
Whether your office furniture design calls for a free standing or traditional partition setting, this product will meet the required specifications. In addition to office furniture, MAP architectural products are widely used in ceiling, basement and wall applications.
An Architectural Case Study
As the United States' office landscape transitioned from traditional "cubicles" to an "open office setting", MAP was asked to develop unique acoustic partitions that have never been seen before.  The challenge – to deaden unwanted noise in the office place while providing a modern look and feel.  Generating work place creativity was at the core of this movement.
With custom tooling MAP developed a solution to  mold unique contoured shapes, giving each office it's own personality, look and feel.
Employees in the work place can collaborate jointly, maintain work privacy and increase work output while improving overall office morale.